Quadtech has been providing IT services to business in Toowoomba and the Darling Downs for nearly 20 years, with a focus on desktop services and server support. As we've grown, so too has our range of IT services we can provide to our customers.
Secure Your Success with Quadtech
Local IT Support that Provides Stability, Financial Certainty and Peace of Mind
Discover Quadtech, your premier regional provider of managed IT services. Our dedicated team of IT specialists ensures your business runs smarter, more efficiently, and securely. With proactive monitoring, maintenance, robust security measures, and reliable backup solutions, you
can trust us to manage your network while you focus on running your business. Say goodbye to IT worries and unwanted surprises and experience newfound efficiency, productivity, and peace of mind. Experience the Quadtech advantage and propel your business forward.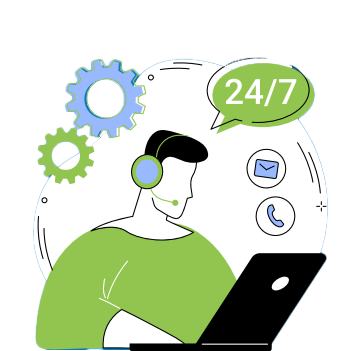 Boost your business with Us
Boost your business with our reliable service: cost savings, enhanced performance, and network protection guaranteed
Boost your business to new heights with our dependable service, where cost savings, heightened performance, and unwavering network protection are not just promised, but guaranteed.
Simplify with One
Monthly Fee
Faster, More Effective Problem Resolution
Simplify with One
Monthly Fee
By choosing Quadtech's Fixed-Rate Managed IT Services, you can optimise your business operations, safeguard your network, and drive your business forward. Allow us to handle all your technology requirements, freeing up your time and resources to focus on growing your business ambitions.
Unlock the full potential
Simplify with One Monthly Fee
Experience peace of mind with our simple and predictable pricing
structure. Our fixed-rate model covers proactive maintenance that
nips problems in the bud, ensuring your systems operate smoothly
24/7. No surprises, just uninterrupted productivity.
Faster, More Effective Problem Resolution
Our team of IT experts becomes an extension of your business. We are
there when you need us, treating your network as if it were our own.
With our prompt and knowledgeable support, problems are resolved
swiftly, minimising downtime, and maximising efficiency.
Robust Security for Small Business Protection
Protecting your business is paramount, and that's where our robust security solutions come into play. Our comprehensive approach ensures that your valuable assets and sensitive data remain shielded from threats. With state-of-the-art technology and expert strategies, we've tailored a security system to meet the unique needs of small businesses like yours.
Our robust security framework encompasses cutting-edge firewalls, advanced encryption, real-time threat detection, and around-the-clock monitoring. We understand the importance of uninterrupted operations, so we've designed our security measures to safeguard your business while allowing it to flourish.
Rest easy, knowing that your small business is fortified with the best-in-class security, providing peace of mind and enabling you to focus on what you do best.
Benifits of having QuadTech on your Side
Benefits of Quadtech's Fixed-Rate Managed IT Services
In the traditional IT support model, it's common to find yourself paying premium rates for technicians to repeatedly put out the same fires. Escape this expensive cycle and say goodbye to costly inefficiencies. Discover a better way with Quadtech's Managed Service.
No hassles. No surprises.Just a consistent, predictable cost that's easy to budget for.
Reliability 'It Just Works'
Our always-on monitoring and alerting ensures everything stays running smoothly 24/7.
Don't wait until something is broken and lose staff productivity while it's being fixed. We resolve issues before they become expensive problems.
Faster, Effective Problem Resolution
We're incentivised to not only resolve issues quickly but find the route cause and find long term folutions.
We treat your network like our own. Our team of technical experts and local help desk are here when you need us.
Protection from cybersecurity threats
Small businesses are big targets for cyber attacks. We use the latest Microsoft technology and our expertise to keep your network secure.
See What our Clients Say about Us
Hear What Our Clients Have to Say
""Its great, we call them if we have a problem with our IT. We call them with any issues what-so-ever. They are like a full time employee for us. They also help us with our Cyber Security as well. Which is a big risk for any organisation. If you are looking for an organisation for all of your IT, you can't go past Quadtech. They have been fantastic for us.""
Exploring the Latest and Greatest Features
Staying up-to-date with the latest technology is exciting. Discover new ways to customize your phone, explore apps, and streamline your work with the latest features. Constant updates across platforms mean you must keep an eye out for the latest and greatest ways to improve productivity, creativity, and overall enjoyment. Stay ahead of the curve and make the most of every innovation by exploring the latest features.
We'll work closely with you to evaluate the health of your network and deliver a robust IT and security plan that will scale as your business grows.
24x7 Advanced Network Monitoring
By proactively analysing network activity we're alerted to potential issues and can immediately address them before they become costly problems.
Our team provides preventative maintenance for devices ranging from desktops and laptops to networking hardware. Our software agents allow us to do it all silently in the background without disrupting your employees.
Our state-of-the-art patching engine allows us to silently update operating
systems and third-party software, so you can rest easy knowing your systems
are secure and always up-to-date.
Layered Security & Backup
Protecting your company from today's evolving threats requires defense in depth. In addition to deploying and managing antivirus software we monitor firewall configuration, manage and track backup jobs, and analyze traffic flow to prevent, detect, and react to potential attacks.
Remote Help Desk & Onsite Support
Our local, best-in-class remote access provides quick and reliable support to
address day-to-day IT-related issues and interruptions.
Say goodbye to expensive traditional break/fix support.
Our approach reduces IT costs, improves performance, and protects your network
so your business can thrive. With constant monitoring and upgrading of your
systems, without waiting for something to crash, it ensures the smooth operations
of all your facilities.